Meet The Familia – Oscar De La Hoya Biography
Oscar De La Hoya Biography: From Athlete To Entrepreneur
Who Is The Golden Boy?
Oscar De La Hoya is a famous American boxer with more than 130 fights to his name. He has accomplished many things in his life, from winning 10 boxing world titles in six different weight classes to becoming an accomplished and prominent entrepreneur, artist, and philanthropist.
Boxer Oscar De La Hoya, often referred to as "The Golden Boy," won a gold medal at the 1992 Olympics at the age of 19 and began his boxing career at a young age. Oscar De La Hoya was one of the most popular athletes in boxing history; before retiring in 2009, he had hundreds of millions of dollars from pay-per-view fights.
Now Oscar's legacy lives on through Casa Mexico Tequila.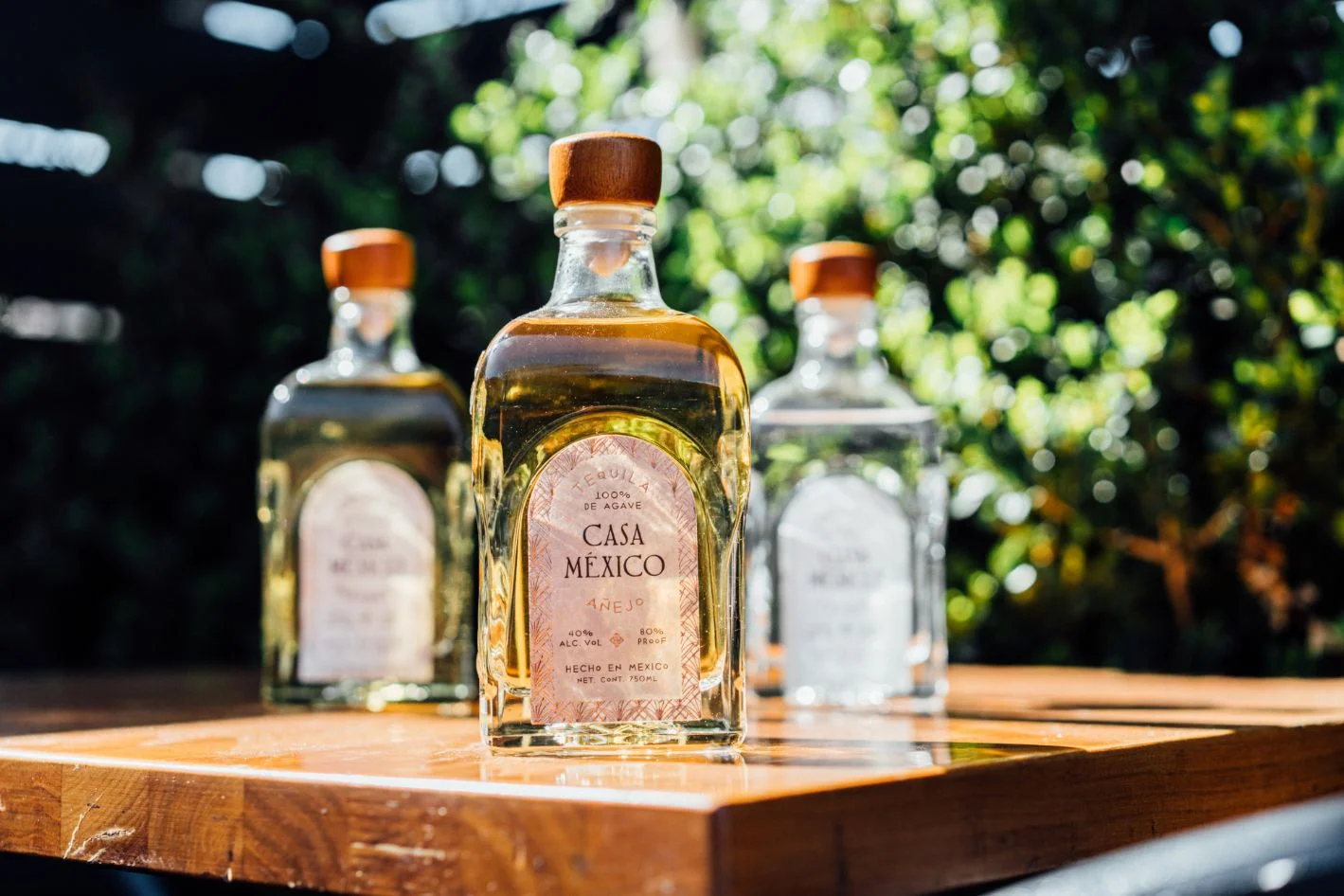 The early life of Oscar De La Hoya.
Oscar De La Hoya was born in East Los Angeles, California, on February 4, 1973. His parents are Don Joel De La Hoya Sr. and Cecilia De La Hoya and had immigrated to the United States from Mexico before he was born.
Oscar grew up in a poor area and his father worked as a warehouse clerk for a heating and cooling company to put food on the table. At the local gym, Oscar would hang out with other Mexican boxers while his father worked to support the family.
Boxing runs in his blood.
De La Hoya's family was known for boxing. The boxing tradition ran in his family's blood for two generations back to his grandfather. His grandfather, Vincente, was an amateur fighter in the 1940s, and his father fought professionally in the 1960s. De La Hoya began boxing at an early age when he was six years old. As a child, Oscar would go to the Pico Rivera Sports Arena with his father and older brother, Joel.
Oscar's hero, Sugar Ray Leonard, was a gold medalist in the 1976 Summer Olympics and became a celebrity after the Games, before turning professional.
A champion boxer since his teenage years.
At 15, De La Hoya won the national Junior Olympic 119-pound championship; he added the 125-pound title a year later. He then won the national Golden Gloves award in the 125-pound division in 1990, becoming the youngest U.S. boxer at the Goodwill Games that year, and winning a gold medal.
De La Hoya's mother passed away of breast cancer a few months earlier in October 1990, expressing the hope that her son would one day become an Olympic gold medalist.
His ambition to fulfill the dying wish of his mother was reported by the media, which dubbed him "The Golden Boy." That title stuck with him for the rest of his career.
De La Hoya earned Boxer of the Year honors from USA Boxing one year later, in 1991, after winning the U.S. Amateur Boxing championship (132 pounds).
Becoming a world-renowned boxing star and an Olympic champion.
With the 1992 Summer Olympics in Barcelona, Spain fast approaching, De La Hoya dedicated himself to his mother's goal and transformed it into a major mission for his training. After an upset victory over Cuban boxer Julio Gonzalez in the first round, De La Hoya beat Marco Rudolph of Germany to win an Olympic gold medal and become the first American athlete to be a gold medallist at Barcelona.
After the 1992 Olympic Games, De La Hoya turned professional, defeating Lamar Williams in a first-round knockout in Inglewood, California, on November 23, 1992. In his initial year as a professional, De La Hoya had an outstanding record. On March 5, 1994, he won his first world title by winning the World Boxing Organization (WBO) junior lightweight champion title with a technical knockout of Jimmi Bredahl in the 10th round of their bout. Four months later, De La Hoya captured the WBO lightweight champion title by knocking out Jorge Paez in the second round.
The champion remains undefeated and solidifies his reputation.
Oscar De La Hoya defeated Rafael Ruelas in less than five minutes to capture the International Boxing Federation (IBF) lightweight crown and improve his overall record to 18-0 after a hard-fought victory over John Molina in February 1995.
Despite Oscar De La Hoya's reputation as "The Golden Boy" of boxing, some people questioned if he had faced serious enough competition. In June 1996, De La Hoya met his toughest test in his boxing career to that point, Julio Cesar Chavez, an experienced and well-known Mexican boxer who was also the World Boxing Council (WBC) light-welterweight champion.
As an amateur, Oscar De La Hoya had sparred with Chavez in the boxing ring and had been knocked down previously, but the results were different this time. De La Hoya battered crowd favorite Chavez, cutting him above his eye before officials halted the fight in the fourth round. The victory was declared for De La Hoya and any doubts of him facing quality opponents were put to rest.
Oscar defends his title.
In January 1997, Oscar De La Hoya successfully defended his light-welterweight title for the second time. In April of that year, he captured the WBC welterweight crown when he bested Pernell "Sweet Pea" Whitaker, a pro champion in four different weight classes, in Las Vegas. With that victory, De La Hoya cemented his reputation as the world's finest pound-for-pound boxer.
On September 18, 1999, De La Hoya faced the hard-hitting Felix Trinidad in one of the most anticipated fights of the decade. A record-breaking number of fans watched the bout on pay-per-view television.
De La Hoya stayed well outside of Trinidad's range while scoring heavily with his solid jab and blitzing combinations. However, in the final 2-3 rounds of the bout, De La Hoya heeded his corner's stringent instructions believing that De La Hoya was far ahead on the scorecards. He avoided trading blows with Trinidad and slowed down much of his offensive. De La Hoya practically handed his opponent the last few rounds. Despite landing over 100 more hits, Trinidad was awarded a majority decision. The judges' scorecards were questioned after the result and the call for a rematch from fans and boxing analysts went unheeded.
In 2000, the second loss to "Sugar" Shane Mosley in a split decision prompted De La Hoya to take a short break from boxing to pursue a career in the music business.
Boxer, philanthropist, and artist.
De La Hoya was a hit with both fans and the media from the start of his career, thanks to his attractive looks and undeniable talent.
Outside the ring, he became the most well-known boxer in the United States, gaining respect from many for his charity and efforts in community service, including a youth boxing center in his old East Los Angeles community and a nonprofit foundation.
De La Hoya released his debut album in 2000, featuring both English and Spanish versions on the EMI/Latin label. The album was titled "Oscar" and topped Latin dance charts, as well as his single "Ven a Mi" being nominated for a Grammy Award.
The Golden Boy back in action.
Oscar De La Hoya fought again in March 2001, knocking out Arturo Gatti in the fifth round of their first bout after his return. That same year, on June 23, De La Hoya moved up to the light-middleweight class and defeated Spain's Javier Castillejo, the reigning WBC super-welterweight (154 pounds) champion, in 12 rounds to win his fifth world championship in as many weight classes, tying his role model Sugar Ray Leonard's record. At the age of 28 years old, he was the youngest boxer to ever win five world boxing titles.
Although The Golden Boy attained great success in his career, everything could not stay golden for this boxing phenomenon forever. After moving up from the light-middleweight class, he was defeated by Bernard Hopkins in a middleweight title bout in 2004. After the bout De La Hoya took a break from boxing and focused on other aspects of his life.
He had a 20-month layoff before coming back in 2006 to defeat Ricardo Mayorga in the first minute of the fight with a left hook.
In 2007, De La Hoya signed to defend his title against WBC welterweight champion Floyd Mayweather Jr. in a two-to-one underdog fight. It was a very close match and even though De La Hoya threw more punches, Mayweather landed hits at a higher rate and won the bout in a split decision.
In 2008 Oscar received the honor of becoming a United States Olympic Hall of Fame inductee.
On April 14, 2009, De La Hoya retired from boxing after his match with Manny Pacquiao.
Oscar's life outside of boxing.
De La Hoya has been preparing for a future outside of boxing. De La Hoya's career as a boxing promoter was already well established when he launched his company, Golden Boy Promotions, in 2002. He later expanded his business in 2006. Boxer Oscar De La Hoya's company has grown into one of boxing's leading managers and promoters.
Oscar De La Hoya is not only a world-renowned boxer but also an entrepreneur who continues to grow outside of the ring where it all began. He strives to continue giving back through charitable works while still managing and promoting boxers today!
The birth of Casa Mexico Tequila.
Casa Mexico is a small-batch, high-quality tequila created in the red volcanic soil of Arandas in Jalisco, Mexico's mountainous interior.
Casa Mexico Tequila añejo, silver, and reposado expressions, which were made over an eight-year stretch from some of the highest quality agave plants in Jalisco.
Businessman and producer Mark Roberts was intrigued by the spirits and asked if he might share a bottle with Mario Lopez, another tequila enthusiast.
Order Casa Mexico Tequila Online Here.
Life-Long friends make the best partners.
Mario and Oscar have been long-time friends dating all the way back to when Oscar had won the gold medal in the Olympics in 1992. They shared similar backgrounds and naturally hit it off.
Mario knew that Oscar would love to join the Casa Mexico Tequila team and when presented to him, he was all in.
Oscar De La Hoya joined the venture with Mario. The legendary champion says, "Boxing, tequila, and friendship all go hand in hand. I'm happy to be working with friends and sharing our tequila with the world."
The Golden Boy continues to inspire.
Casa Mexico Tequila and "The Golden Boy" have even inspired a tequila-based cocktail that became a knock-out success within East Los Angeles, California bar culture. You can even learn to make the cocktail yourself.
Learn how to make "The Golden Boy" here.
Oscar has always had a great appreciation of his successes and making tequila was no different. Oscar believed it to be an amazing product.
Truly a man of many talents.
Oscar De La Hoya has been a very successful boxer, from his humble beginnings to his years of boxing dominance. Oscar was able to achieve great things both inside and outside of the ring. Oscar's life is an example that even with obstacles along the way, one can still come out on top in any industry they choose to be involved in if their passion drives them forward.